Parts Delivery Problems Solved
ACR News and Parcel Holders explore PickUp DropOff points solutions
Remember the ad campaign: 'Go to work on an egg'?
It was on the side of every bus. So, how do you like yours? Sunny side up? Over easy? The full fry up?
An engineer was telling us recently that every time he goes to collect parts on a Friday to repair a supermarket refrigerator, the trade counter he picks up from serves complimentary egg-and-bacon butties. 'It's an incentive to get us to pick up our parts from them,' he said, 'I've already eaten by that time but they're certainly tempting!'
We often think that if a machine goes down, an engineer can be on site straight away to fix it. Or at any rate, fast. But how fast really is,.. fast? It turns out, speed is usually entirely dependent on how parts get to the engineer. We decided to do a little research on parts delivery solutions.
It's a nice perk of the job after perhaps a long drive, to be served breakfast. Collecting parts from the office or trade counters was up until a couple of years ago, the only option for mobile engineers. It's straightforward, the route well known but with traffic volumes, roadworks and diversions, these days you might be in danger of missing that bacon-and-egg butty, let alone getting to site in time to fix a machine.
Add in product innovation across all sectors and new manufacturers entering the market, means trade counters are often incapable of carrying the huge range of different parts required. This leads to ordering in stock from the manufacturer or stockist direct or ordering from a centralised warehouse. As a result, the first trip to the trade counter can be a waste of time. Not to mention, a waste of fuel and yet more CO2 emissions.
So, what other options are out there for engineers to get parts?
Our research brought to light three other well-used solutions… and the pros and cons of each.
Delivery direct to engineers' homes or client sites.
Recognising issues with trade counters, businesses often order parts direct from major stockist distribution centres and send them straight to their engineers. It's looks like the obvious solution; parts get to where they need to be with no driving. The downside? On average, engineers wait half a day for their delivery to arrive. Some suppliers offer premium-priced deliveries to get parts out earlier, but these are often expensive and still usually cut an hour or two off an engineer's working day.
What about sending direct to client sites?  
This solution works well for small sites, a tried and tested method, adopted by many. The issue is that it doesn't work for domestic markets as customers are often out at work, unavailable to take delivery. At larger commercial sites, a component can get lost (imagine the receptionist who has no idea a part is going to arrive, let alone who's going to collect it). This is a doubly frustrating as it leads to time wasted trying to track parts down. As Rachel Burgess, Customer Services Manager at AA First says:
'One of the biggest nightmares in this job, is parcels that end up in the wrong place, get lost or end up back at base marked "return to sender".'
Sending to locker boxes or engineers' vans.
This, the second solution we found out about, is popular with large businesses with an engineer work force of several hundred. In fact, they will often go a step further and employ a third party logistics service to deliver overnight. Again, this is great for those that can afford it - and have clients willing to pay for it. But for many businesses, a logistics service is out of the question, purely because of the expense.
In addition, using boxes and vans (and logistics) makes shopping around for the best price far more difficult, as bringing new suppliers onboard requires full integration with existing logistics set-ups.
Pick up and drop off
Onto the last solution. You've heard of - and maybe use - collection points for internet buys. Some companies are now adapting and designing their domestic solutions for B to B markets.
A company leader is Parcel Holders. MD Ed Fraser says: 'I started with internet shopping. Our sister company Parcel PickUp uses local shops, garages, pubs and so on to take delivery for people who are out during the day.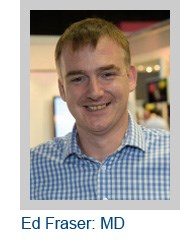 In 2013, I had a 'lightbulb moment'! How about a service dedicated for engineers in the field? Using mostly newsagents and convenience stores [open early to take the papers in], Parcel Holders has upwards of 400 PickUp DropOff points (PUDOs) and a dedicated online system. From vending to IT to CCTV to refrigeration, we're expanding. Every sector is different, so each time we take on a new type of business, our features and upgrades, important stuff for engineers, can be specifically designed.'
We asked their Ops Director, Monika Douglas the best part of using their pick up drop off solution.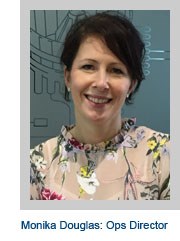 'Any company, any supplier, any location can trial Parcel Holders for free and experience the money-saving benefits for themselves,' she said. 'We use supply chain transparency, meaning suppliers are added into the process, so consignments can be tracked from the minute they leave the supplier to the moment they land in an engineer's hands.'
Andy Chilvers, Operations Manager at Connect adds: 'The transition from suppliers to PUDO sites works seamlessly. This PUDO system works really well.'
And the downside? 'It's unlikely any of our PickUp DropOffs is going to serve you a free bacon butty or fried egg!' says Monika.
Sure as eggs is eggs, the business of getting parts to where they need to be is only going to get more complex. It's good to know what's out there and how to make time-pressured engineers' lives a little simpler.

Parcel Holders is on stand B42 at the HVAC & R Show, ExCel, London. January 23 to 25 2018.
View other articles